Duck breast with honey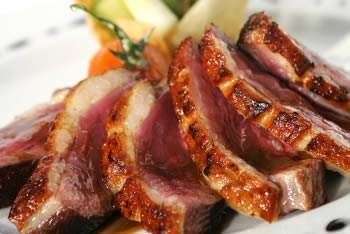 Le Rucher de l'Ours vous fait découvrir "Honey recipes", parmis elles la recette du Magret de Canard au miel.
Ingrédients pour 2 personnes :
- Deux beaux magrets de canard
- Six échalotes pelées et hachées
- Une cuillère à soupe de Vinaigre de Miel
- Une cuillère à soupe de Miel toutes fleurs liquide,? sel et poivre
Préparation
Inciser les magrets coté peau en quadrillage sans couper la viande
Saler et poivrer
Déposer les magrets de canard côté peau dans une cocotte en fonte, et couvrir.
Laisser cuire ainsi de 8 à 10 minutes à feu doux (selon si vous les aimez saignants, rosés ou bien cuits)
Retirer les magrets de canard et vider en partie la graisse.
Fare revenir les échalotes pendant 5 minutes jusqu'à ce qu'elles soient fondantes puis déglacer avec le Vinaigre de Miel (à l'aide d'une spatule en bois,) ajouter le Miel toutes fleurs et porter a ébulition 1min.

Et voilà, c'est terminé !
Il ne reste plus qu'à servir les magrets de canard découpés en tranches en les recouvrant de sauce.
Vous pouvez servir ce canard au miel accompagné de pâtes fraiches.
Retrouvez d'autres suggestions de recettes à base de miel :


Add all product of recipe
Honey vinegar is not sweet, it is light, natural, and easily digested.

(Wild Flower Honey) The Mountain Honey carries the wild aromas of all the wild flowers of the Pyrenees Mountains.
Add all product of recipe